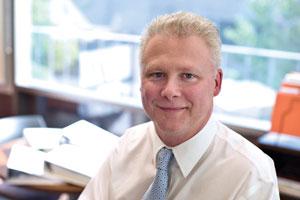 Photo by Jeff Watts
Welcome to Graduate Studies at American University in Washington D.C. There are boundless opportunities in the domains of graduate education and research at our University. For those of you who are visiting this webpage for the first time and those of you who are continuing AU graduate students, please use the information here to learn more about all the available opportunities for experiencing an exciting graduate education in our nation's capital, the application process, graduate funding opportunities, enhancement activities sponsored or co-sponsored by Graduate Studies, as well as all the other special features of AU that make it a global destination for graduate education. Please join us as an engaged member of AU's graduate academic community.
AU is a special place to pursue graduate study, including both scholarly and professional development. The small size of the University, its premier location in a city that provides a multitude of internship and practicum experiences, the world-class faculty, a diverse and highly-qualified student body, and unsurpassed local cultural amenities all contribute to a stimulating experience that promises to provide seemingly limitless ways to develop your scholarly, professional and personal potential. Graduate Studies is pleased to partner with AU's academic and teaching units to enhance the experiences of the University's graduate students, to ensure the quality of our graduate programs, and to encourage innovation in the teaching and research of our highly accomplished faculty mentoring graduate students in the social and natural sciences, the humanities, human services and in AU's Schools of Law and Business.
If you are considering embarking on part-time or full-time graduate study or you have already made the commitment to do so, Graduate Studies at AU extends an invitation to you to join us, to engage in and celebrate the culture of inquiry that you will find both inside and outside the classrooms of your graduate program. The intellectual life of a modern research university, which is exemplified by the twin processes of discovery and dissemination of new knowledge to benefit the greater good, awaits you at AU. Join us, begin your own transformation and explore the possibilities.
Best regards,
Jonathan G. Tubman
Vice Provost for Research/Dean of Graduate Studies