Achievements
News and Notes 4/11/12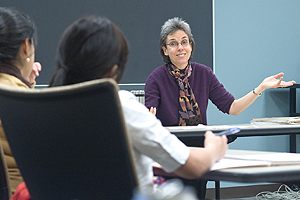 Professor Elizabeth Cohn and Ambassador Sally Shelton-Colby
(U.S. Foreign Policy) were honored by AU's Professional Women's Association by being selected by undergraduates for a panel called "The Gold Standard: The Women of American University."

Professor Daniel Esser
(International Development Program) will be awarded a peer-reviewed fellowship from the Social Science Research Council (SSRC) for his research on urban violence. The Drugs, Security and Democracy Fellowship will enable Daniel to spend much of the fall semester in Ciudad Juárez, Mexico, which during the past several years has become the epicenter of the country's drug-fueled quasi-civil war.
Professor Carl LeVan
(Comparative and Regional Studies) was recently appointed Associate Fellow at the Institute for Policy Studies, where during his junior sabbatical he is researching American national security policy towards Africa. 
Professor Cathy Schneider
(Comparative and Regional Studies) gave a talk on "1968 - 2011,  Estudiantes y Movimientos Estudiantiles en Francia, USA y Chile,"  Universidad de Santiago de Chile, (in Santiago, Chile) on January 12, and another on "The Armed Forces, the Police and the Arab Rebellions," on a special presidential panel on the Arab Spring, at the Eastern Sociology Association Conference, on February 23.

In addition, her theoretical model (on the relationship between police violence, boundary activation and riots) was used by Kostos Kanellopoulos in his analysis of the Greek riots in "The Accidental Eruption of an Anarchist Protest," Seraphim Seraphides and Hank Johnston, Violent Protest, Contentious Politics and the Neoliberal State. (London: Ashgate Press, 2012).

Professor Guy Ziv
(U.S. Foreign Policy) met with Israeli President Shimon Peres last week to interview him for Ziv's research on Peres' presidency as well as the latter's past activities as a government minister. Ziv also published an editorial on April 11 in Israeli newspaper Haaretz.
Dylan Kaplan, SIS/BA '15
published his essay, "Repairing the Broken Hearts of Both Jews and Muslims," in Haaretz, on April 11. Kaplan serves as a researcher and assistant to Ambassador Akbar Ahmed, and is an AU Undergraduate Senator.
In November, Kaplan published another essay, "Seeking Sikh-Muslim Peace," in The Washington Post.

Graduate Research Awards
Twenty-three SIS graduate students received funds for either domestic or international research for the summer of 2012: 
Folayemi Agbede, SIS/MA '14
Diana Alhindawi, SIS/MA '12
Connor Arrington, SIS/MA '12
Katherine Biese, SIS/MA '12
Olivia Gilmore, SIS/MA '13
Larry Hawley, SIS/MA '12
Kristin Lang, SIS/MA '13
Benjamin Leffel, SIS/MA '13
Adela Levis, SIS/MA '12
Nicole McCann, SIS/MA '12
Jason Meisner, SIS/MA '13
Livia Mueller, SIS/MA '13
Linh Nguyen, SIS/MA '13
Rui Nomoto, SIS/MA '13
Molly O'Connor, SIS/MA '13
Ayanfeoluura Olonade, SIS/MA '13
Schuyler Olsson, SIS/MA '13
Zhikica Pagovski, SIS/MA '13
Jacinth Planer, SIS/MA '13
Sharon Rogers, SIS/MA '13
Sonia Saini, SIS/MA '13
Robert Schlehuber, SIS/MA '13
Chantal Uwizera, SIS/MA '12