Communications
Dotty Lynch Leaves Legacy of Political Communication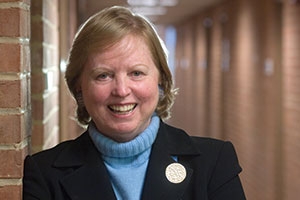 The School of Communication and American University are mourning the loss of Dotty Lynch, a journalist and pollster who infused students with a love of politics and the political process. Professor Lynch died Aug. 10, 2014, after a year-long battle with melanoma.
Lynch joined SOC as an Executive in Residence after a two-decade long career with CBS News.
SOC Dean Jeffrey Rutenbeck called Lynch "a giant in her field. We will miss the energy she brought to each endeavor, and the generosity with which she shared her considerable knowledge and network with both students and colleagues."
Former students and a legion of prominent media strategists, pollsters and journalists took to social media to share their shock and sadness upon hearing the news.
"Remembering Professor Lynch as the vibrant, caring, and dedicated woman we all knew," Allison Terry, a former student, posted on Facebook.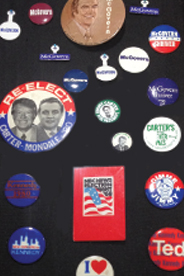 A small sampling of the many elections Lynch worked on, including the press pass covering her very first election in 1968 for NBC, presented as a retirement gift in May 2014.
Lynch's professional contacts were legion, ranging from Hillary Clinton to Dan Rather to Mike Wallace, and she often used those contacts to help students understand the ins and outs of politics.
Lynch was a driving force in creating a class with other SOC faculty that offered students the opportunity to examine the 2008 and 2012 presidential campaign. As part of the class, students and faculty traveled to New Hampshire in the January cold to cover that state's all-important primary. Lynch leveraged her extensive network to get students front-row access to debates and connect them with professional reporters and politicos on the ground.
Lynch recalled that in 2008 New York Times' reporters were staying in the same hotel as the AU group, with a newsroom set up just like the students were using, "except ours was bigger," Lynch said, laughing as she recalled the scene.
The experience, and Lynch herself, were influential for many students. "She continued to support, sass, and educate me well after the NH class was over," said Meagan Shamberger.
Lynch had decided to retire at the end of the 2013-14 academic year, and she talked before her recent illness about how she got into the business of politics and how she incorporated her experiences into the classroom.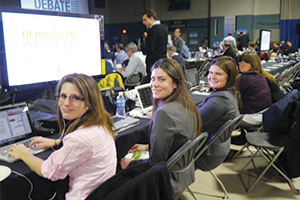 AU students at the filing center in St. Anselm's College covering the 2012 New Hampshire primary.
Lynch, who taught research methods and polling in the Public Communication Division, began her fascination with politics while watching President John F. Kennedy deliver his landmark 1963 speech calling for a nuclear test ban. Ironically, that speech was given at commencement ceremonies at American University, which became Professor Lynch's home in 2006.
Lynch began her career in 1968, working as a researcher for the Election Unit at NBC. In 1972, she joined Cambridge Survey Research, becoming a vice president in 1976. At Cambridge, she worked on the presidential campaigns of George McGovern and Jimmy Carter as well as a number of congressional and gubernatorial campaigns.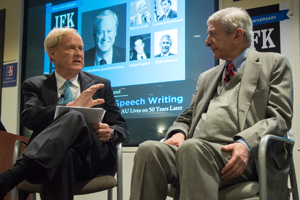 Chris Matthews, host of NBC's Hardball, was part of the speechwriting panel that kicked-off AU's 50th anniversary celebration of JFK's speech on nuclear proliferation.
It was as Director of Survey Research for the Democratic National Committee in the early 1980s that Lynch first developed the concept of a "gender gap," showing the disparity in political behavior between men and women. She began her own firm in 1983 and was the first woman pollster in a presidential campaign. She joined CBS News as Political Editor, later being named Senior Political Editor, and worked with reporters including Lesley Stahl, Bob Schieffer, Ed Bradley, and Diane Sawyer.
Even after joining AU, Lynch remained a political consultant for CBS News doing on-air radio analysis and serving as a member of the CBS News Election Decision Desk. She said having one foot in both the academic and professional worlds made a difference in the classroom.
"I was always up to date, minute to minute," she reflected just before her retirement, noting that while she was discussing election exit polls, her students were in the field, actually doing exit polling.
The 2012 election marked her 22nd election cycle in congressional and presidential campaigns as a professional journalist and pollster.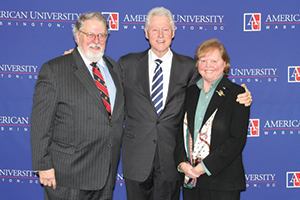 Lynch and her husband pose with President Bill Clinton, who received AU's inaugural Wonk of the Year award in 2012.
Lynch worked with Professor Lenny Steinhorn in SOC as well as faculty from AU's School of Public Affairs to help launch the new master's degree in Political Communication in 2010.
"It grew from the ground up: Communication students wanted more politics and SPA students wanted more communication," said Lynch, who served as the program co-director with Professor Candy Nelson in SPA.
Speakers in Professor Lynch's classes included political consultants, pollsters, media advisors and communication directors. Students heard from former Bill Clinton press secretary Mike McCurry, Mandy Grunwald, who directed media relations for Hillary Clinton's 2008 presidential campaign, and Obama advisor Jim Margolis.
Lynch said that she had two criteria when deciding whom to invite to class: "They need to be experts, the best in their field. And they must be ethical and have good values. Democrat, Republican – that doesn't matter. I want people who care about more than money."
Lynch said she wanted to let students experience what people have to say about the challenges of doing the job, for example, how to handle a crisis. Not just war stories, but educational – principles that can be applied from school board to the presidency.
"So much of American politics today is built on two essential pillars: knowing how the political system works, and appreciating the subtleties and strategies of political communication," Lynch said.