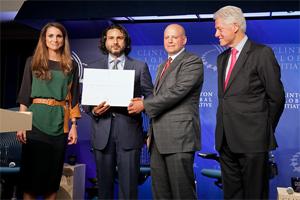 In 2011, as part of its commitment to the Clinton Global Initiative, the Mohamed S. Farsi Foundation established the Mohamed S. Farsi Foundation Scholarship Program at American University.
Funded by the generosity of the Mohamed S. Farsi Foundation in honor of Khaled Said of Egypt and Mohamed Bouazizi of Tunisia – two leaders of the Arab Spring of 2011 – the Program aims to improve understanding and cross-cultural interaction between young leaders of emerging Middle East democracies and those in the United States and other Western countries.
Through an intensive academic year at the American University School of Professional and Extended Studies Washington Semester Program, MSFF Scholars receive an opportunity to obtain knowledge, skills, and experiences that are relevant to leadership at home and to ongoing positive international relationships in personal, economic, and diplomatic arenas.
Scholarship recipients will take classes and hold internship appointments at organizations and institutions in the capital city of the United States.  In a year of education, training, and discovery, Program participants will have opportunity to interact with teachers and colleagues who play a powerful role in shaping a wide range of domestic and international policies.
The Mohamed Said Farsi Scholarship will provide a one year of funding to successful undergraduate or postgraduate applicants with financial need to offset tuition, room, board, and travel related to participation in two consecutive Washington Semester Program seminars in one academic year. Selection priority is given to Egyptian and Tunisian students, or other students in emerging democracies in the region, currently enrolled in degree programs in recognized educational institutions in their home countries.
Additional preferred scholarship qualifications include:
Plan to attend WSP in their third year of undergraduate study
Proof of academic excellence
Statement of financial need

Students will specifically enroll in two semester-long programs in the following areas:
American Politics
Foreign Policy
Global Economics & Business
International Law & Organizations
Journalism & New Media
Justice and Law

Religion, Politics, Peace, and Security

Public Health

Sustainable Development

Students must apply no later than May 1st, 2015 for enrollment the following August.

Please submit the following application materials:
Official transcript (issued by your university, along with an English translation)
Letter of recommendation for a professor or university administrator
Proof of English Fluency: Paper Based TOEFL: 550; Internet Based TOEFL: 80; IELTS: 6.5
Please send all scholarship applications via email to washsem@american.edu (subject line: MSFF Scholarship), or by express mail to:  
School of Professional & Extended Studies
American University
ATTN: MSFF Scholarship
4000 Brandywine Street, NW Suite 500
Washington, DC USA 20008

Applicants who wish to be considered for both admission and the Scholarship must make themselves available to the Mohamed S. Farsi Foundation for an in-person or telephone interview in their home country.