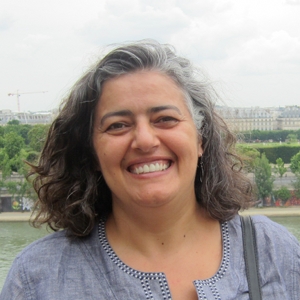 Despina Kakoudaki
Associate Professor and Director, Humanities Lab
Department of Literature
Additional Positions at AU

Director, Humanities Lab

Professor Kakoudaki teaches interdisciplinary courses in literature and film, visual culture, and the history of technology and new media. Her interests include cultural studies, science fiction, apocalyptic narratives, and the representation of race and gender in literature and film.

She completed her doctorate in Comparative Literature at the University of California at Berkeley, and taught at Berkeley and at Harvard University before joining AU. She has published articles on robots and cyborgs, race and melodrama in action and disaster films, body transformation and technology in early film, the political role of the pin-up in World War II, and the representation of the archive in postmodern fiction. She has also co-edited a collection of essays on the work of Pedro Almodovar with Brad Epps (University of Minnesota Press, 2009).

Professor Kakoudaki's new book, titled Anatomy of a Robot: Literature, Cinema, and the Cultural Work of Artificial People, was published by Rutgers University Press in 2014. She received a fellowship from the National Endowment for this project, which traces the history and cultural function of constructed people and animated objects in literature and film.

In 2014 Professor Kakoudaki was appointed Director of the Humanities Lab, a new research initiative at American University. Working across departments and schools, the Humanities Lab aims to support and showcase interdisciplinary research and support scholarly collaboration at AU and beyond.

Degrees

PhD, Comparative Literature, University of California at Berkeley
MA, Comparative Literature, University of California at Berkeley
BA, English and American Literature/ Linguistics, University of Athens, Greece

Languages Spoken:

Modern Greek, Ancient Greek, Latin, French
Loading ...

OFFICE

CAS - Literature
Battelle Tompkins - 211
FOR THE MEDIA

To request an interview for a
news story, call AU Communications
at 202-885-5950 or submit a request.
---
Teaching
Fall 2015

LIT-446 Advanced Studies in Film: Apocalyptic Cinema
Spring 2016

LIT-146 Critical Appr to Cinema

LIT-446 Advanced Studies in Film: Film and the Human Body
Scholarly, Creative & Professional Activities
Work In Progress
 Recent publications:   
"Affect and Machines in the Media." In Handbook of Affective Computing. Eds. Rafael. A. Calvo, Sidney K. D'Mello, Jonathan Gratch, and Arvid Kappas. Oxford University Press, 2014. 110-128. 
"Representing Politics in Disaster Films." In International Journal of Media & Cultural Politics, 7:3 (Dec. 2011): 349-356.
"World Without Strangers: The Poetics of Coincidence in Pedro Almodóvar's Talk to Her." In Camera Obscura: Feminism, Culture, and Media Studies—68. 23:2 (Sept. 2008): ii-39.   
Recent conference presentations:    
"Family Melodrama in the 21st Century." Society for Cinema and Media Studies, Chicago, March 2013.   "Language, Race, and Impersonality." Modern Language Association, MLA Special Session on "Barbara Johnson's Last Works." Boston, January 2013. 
"Fresh New World: Fantasies of Earth and the Aesthetics of Closure in Battlestar Galactica."  Science Fiction Research Association, SFRA Annual Conference, Detroit, June 2012.
"War and Meaning: Resisting Closure in The Hurt Locker." Society for Cinema and Media Studies, Boston, March 2012.   
Recent invited lectures:    
"Robots and Slaves: History, Allegory and the Structural Logic of the Robot Story."  Center for Cultural Studies, University of California at Santa Cruz, May 2014.  
"Melodrama and Apocalypse: Genre, Politics and The End of the World." Invited talk for "Screen Melodrama: Global Perspectives," Columbia University and New York University, February 2013.  
"At Home and at War: The American Pinup in the 1930s and 40s." Winthrop University Galleries Exhibition, "Between the Springmaid Sheets." Winthrop University, Rock Hill, SC. October 8, 2012. 
Selected Publications
Anatomy of a Robot: Literature, Cinema, and the Cultural Work of Artificial People. New Brunswick: Rutgers University Press, 2014.

A historical and theoretical approach to the discourse of the artificial person from antiquity to the 20th century. Single-authored book-length manuscript, in print.

You can see a description of this project on the Rutgers University Press website.

Listen to a short interview I gave about this  book on the Kojo Nnamdi Show on Robots and Pop Culture.
All About Almodóvar: A Passion for Cinema. Minneapolis: University of Minnesota Press,  2009.

Co-edited with Professor Bradley S. Epps, Harvard University.  A new collection of critical essays on Pedro Almodóvar by international group of scholars. Includes substantial co-authored "Introduction" and single-authored chapter. Edited Book, in print.

You can look at the book's description on the University of Minnesota Press website.