Business
Alumnus Mark Lijek, Member of Argo Six, Hosts Movie Screening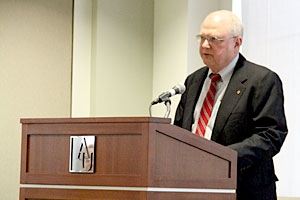 The Kogod community got to peak behind the curtain of Hollywood Wednesday when alumnus Mark Lijek, MBA '78, returned to campus to share his personal experiences that inspired the Academy Award-winning film Argo.
Lijek, along with his wife and four others, were the real-life inspirations for the film, which chronicles the 85 days they spent hiding with the Canadian ambassador in Tehran during the Iranian hostage crisis.
The Next Generation
As part of his visit, Lijek spoke to Assistant Professor Alexandra Mislin's undergraduate Negotiations class.
"It's always interesting to speak with younger audiences," Lijek said. "For them, Argo is becoming the historical record. I like being able to take away some of the Hollywood for them."
Lijek's visit provided the students with a broader idea of the complex foreign concerns and cultural factors surrounding the crisis, according to Mislin.
"We did several negotiation simulations before Mr. Lijek's visit but he still put everything in a much better perspective," she said. "I think he opened [the students' eyes] to the broader strokes of international negotiations and diplomacy."
After the brief history lesson on how President Jimmy Carter handled the hostage negotiation, Lijek asked the students what they would have done in his position.
"It's easy to speculate over that question; I've done it quite a bit over the years," he said. "But what I've really come to learn and what I hope the students will take away is: not every problem has a good solution.
Sometimes those who are willing to negotiate are incapable of putting a solution in place, and those who are capable aren't willing."
Marketable Skills
When Lijek came to Kogod for his MBA, he was looking for—and found—a foundation of practical skills.
"I knew I wanted to work in the Foreign Service and go overseas, but I also knew I'd need more marketable skills than what I got in international studies as an undergraduate, and the business school fit that bill."
After entering the Foreign Service the fall after he graduated from American University, Lijek found his management experience did indeed set him apart. It allowed him to "climb the ladder" faster than most.
"At the time, there was a desperate need for people who knew how to manage—how to manage money, an office, other people. Having my degree [from Kogod] definitely helped my career."
Lijek retired from the Foreign Service as an administrative officer in 1996.
What Hollywood Didn't Say
While on campus, Lijek also spoke about his book, The Houseguests: A Memoir of Canadian Courage and CIA Sorcery, before a screening of Argo, again sharing details the movie didn't.
He put particular emphasis on the role of the New Zealand and Canadian governments and his Canadian hosts, John and Zena Sheardown, who were not part of the film.
"Everyone who helped us was really risking a great deal," he said. "The six of us really felt like Typhoid Mary; anyone who helped us could have been in a lot of trouble."
Lijek says he will always carry his experience in Tehran with him, both the good and the bad.
"I find things are never as bad as they seem. When I'm down I just tell myself 'at least I'm not back in Tehran.' The whole situation has been a very big influence in my life, and I wouldn't have it any other way."