Student Life
Cuba Alternative Break Spurs Family Reunion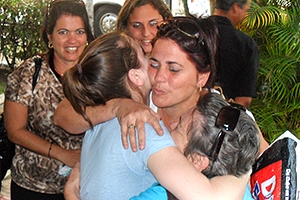 They arrived in a shineless 1950s blue Ford pickup truck, seven people crammed together for a bumpy, three-hour ride from the countryside into Havana.
The vehicle was rented. For how many pesos, they didn't mention to Allison Boyle, Kogod/BA '15, their unknown niece and cousin from the U.S., a nation just 90 miles to the north yet worlds away.
In Cuba, where salaries average roughly the equivalent of $30 a month, the exact cost was irrelevant; any extra expense is a painful one. But for this unlikeliest of family reunions they would not allow money to be an obstacle.
Boyle, whom they had come to see, was one of 15 AU students in Cuba earlier this month studying access to higher education as part of the university's Alternative Breaks, a student-led immersion program focused on social justice issues. 
Student groups partner with community initiatives and travel to locations ranging from South Africa to San Francisco, working on issues like healing and development after genocide, labor and food justice in the agricultural industry, and women's rights.
While all the Cuba participants found the trip enlightening, exciting, and even transformational, for Boyle and Miguel Salazar '16, it also was intensely personal.
CAMPUS LIFE HISTORY: Alternative Breaks Through The Years

The island was more than just a destination for them. In one sense, it was a homecoming.
"Coming here I was very comfortable with the people and how they act, because that's how my family acts back home in New Jersey," said Boyle, whose mother, Pilar, was born in Cuba, left for Spain at the age of 11, and moved to the U.S. in 1974. This was Boyle's first trip to Cuba, and among the relatives she hugged for the first time was her mother's half-sister, Mirian.
"It was a weird feeling because I was meeting people that I don't know, but when they saw me, they started crying, and when they left I started crying," she said. "It was much more emotional than I was expecting. It shows that family is really important for Cubans—and for me."
Salazar grew up in Miami, Florida, where talk of Cuban politics, culture, and family is never far from the surface. His grandfather fled Cuba after the revolution, and doesn't shy from making his anti-Castro feelings known. But Salazar's American-born father has a much more nuanced view. He supports opening relations between the two countries, and has visited Cuba several times.
"I'm in a unique position where I'm able to see both sides," said Salazar, a member of the AU Debate Society.
Throughout the week, during which AU students met with professors and undergraduates from the University of Havana, toured museums, visited the U.S. Interests Section, and engulfed themselves in all aspects of the country's vibrant culture, Salazar felt himself being drawn closer to his Cuban heritage.
"I've never really noticed how much it informed about me," he said. "I've never spoken as much Spanish as I have here in my life. I've never danced as much salsa. I've never felt as comfortable interacting with Cuban people as I have here. I've always wanted to be an individual, but who I am in my identity starts from day one, my birth."
One balmy Havana evening in a downtown nightclub bordering the Caribbean, Salazar experienced that connection as acutely as he ever has.
"It was a visceral feeling I had when looking around and taking it all in that really affected me," he said. "I am Cuban and there is a country that does inform a lot about my life and family, and the way I grew up. I think this trip has changed how I'm going to view myself for the rest of my life."
Boyle's familial awakening, organized thousands of miles away by her mother, took place in a much different environment. She met her relatives one sunny afternoon on the front porch of the Martin Luther King Center, the educational facility in the Marianao district (about seven miles southwest of Old Havana) where the students stayed.
After some initial mutual awkwardness melted away, the family proudly showed Boyle a photo album of her distant cousin's quinceanera, the traditional coming-of-age party for a 15-year-old Latina. As Boyle turned each page, complimenting (in Spanish) picture after picture of girls in pretty dresses and plenty of makeup, the women gushed and the men beamed. 
Less than an hour after they arrived, the family piled back into the truck for the long drive home.
"It made me appreciate how close I am with my family in the U.S., and it also brought to mind that I may never see [my Cuban relatives] again," Boyle said, her eyes welling with tears. "This could be a one-time thing. They don't have a lot of money, and they took the time to come out from the country and visit me, and that means a lot.
"I don't even know why I'm crying. Happiness, I guess."