On Campus
AU School of Communication Welcomes Gaming Guru Lindsay Grace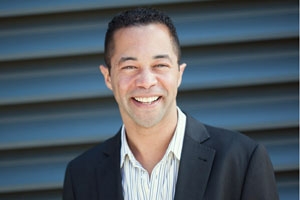 This fall, game designer Lindsay Grace will join American University's School of Communication faculty as an associate professor of persuasive gaming. Grace is an internationally exhibited game artist and designer whose Critical Gameplay collection has been exhibited in Asia, Europe, North and South America. He will play a lead role in shaping a new gaming initiative developed by SOC and the College of Arts and Sciences.
SOC Dean Jeff Rutenbeck is thrilled to have Grace join the faculty. He says, "Lindsay Grace is the ideal person to lead our multi-disciplinary game development initiative here at American University. His wide range of experiences and his proven track record of developing cutting-edge applications, courses, programs, relationships and collaborations will prove to be invaluable as he leads AU to the forefront of public-purpose gaming."
Grace comes to AU from a Miami University of Ohio, where he directs the Persuasive Play Lab within the School of Creative Arts and co-directs the Games Center within the Armstrong Institute for Interactive Media. He has taught 81 courses over 9 years in game design, interactive media design, programming, web design, writing narrative scripts and graphic design. At Miami, he taught Game Design, Interaction Design, Digital Prototyping, and the Design of Play.
Grace says, "I'm exceptionally excited to lead American University to a superlative position in persuasive play and public purpose games. I can think of no other institution as well poised to deliver such an innovative program."
Professor Grace, who will be in the Film and Media Arts Division, received a BA in English and an MS in Computer Information Systems from Northwestern University. He received an MFA in Electronic Visualization at the University of Illinois at Chicago School of Art and Design.
His areas of research include human-computer interaction, creative and critical gameplay, and web design and he is an expert in computer graphics, interface development, and middle-tier programming. Professor Grace has written a number of peer-reviewed book chapters, including "Critical Gameplay: Design Techniques and Case Studies" in Designing Games for Ethics: Models, Techniques and Frameworks. He writes regularly about interactive media design and education.
In addition to his impressive record in academia, Grace has been an independent consultant, web designer, software developer, and entrepreneur. Professor Grace utilizes both theory and practice when he creates his own games. Among the software he has developed are "My Child Knows Chinese," "Mindtoggle," and Polyglot, an educational game for learning language.