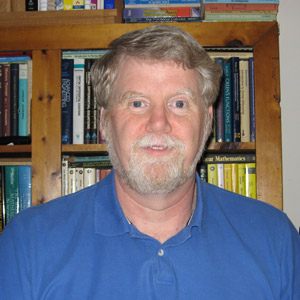 Stephen Casey
Professor
Department of Mathematics and Statistics
Additional Positions at AU

Affiliate Faculty, Department of Computer Science

Professor Stephen D. Casey is a founding member of the Editorial Board for Sampling Theory in Signal and Image Processing. His research is in complex and harmonic analysis with applications to signal processing. He has published nearly fifty articles and is completing work on two invited books. He has given over 100 lectures at various universities in Europe, Asia, and North America. His research has been funded by 17 externally-awarded grants, including grants from the National Science Foundation, the Office of Naval Research, the Army Research Office, and the Air Force Office of Scientific Research.

Professor Casey's teaching recognitions include: AU's 1998 Award for Outstanding Teaching; a finalist in 1999 for the Mathematical Association of America's Sectional Teaching Award; the 2000-2001 AU students' choice for Outstanding Teaching; the 2010 AU Teaching with Technology Award; the 2012 AU Ideas Incubator Award. He has received three curriculum development grants for utilizing computers in a variety of courses, including calculus, complex analysis, and computational science.

Degrees

BA, Drew University, 1979
PhD, University of Maryland, 1988
Loading ...

OFFICE

CAS - Math & Statistics
Gray - 212
Mon & Wed 10:30 am - 5:00 pm or by Appointment
FOR THE MEDIA

To request an interview for a
news story, call AU Communications
at 202-885-5950 or submit a request.
---
Teaching
Fall 2015

MATH-420 Intro to Analysis I

MATH-460 Tools of Scientific Computing
Spring 2016

MATH-421 Measure Theory & Integration

MATH-450 Complex Analysis
AU Expert
Area of Expertise: Complex analysis, harmonic analysis, signal processing, image processing

Additional Information: Stephen Casey is an associate editor for both Sampling Theory in Signal and Image Processing and the Journal of Signal and Image Processing. He was awarded two provisional patents in 2011 for his work in adaptive and wideband signal processing. He received AU's 1998 Award for Outstanding Teaching, was a finalist in 2000 for the Mathematical Association of America's Sectional Teaching Award, and received AU's 2010 Award for Teaching with Technology.

Media Relations
To request an interview please call AU Media Relations at 202-885-5950 or submit an interview request form.