First Person
Internship Takes Communication Student to London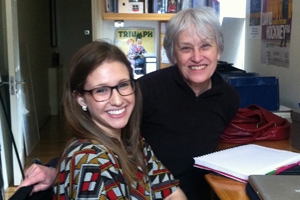 For many students at American University, studying abroad is an integral part of their undergraduate experience. This past semester, I had an opportunity that less than 1% of undergraduate students have during their college careers – an internship abroad.
With the London Internship Program through AU, students spend half the semester taking classes with the Foundation for International Education (FIE), and then the second half of the semester interning with an organization in the UK. FIE coordinates these placements, using students' written personal statements, interest surveys and their resume to match them with a suitable organization.
My internship placement was with UK-based organization Microfinance Without Borders, under Dr. Phyllis SantaMaria, Founder Director of Microfinance Without Borders. Microfinance Without Borders is an organization dedicated to developing seminars and workshops to educate people about microfinance. These seminars teach both students and professionals practical ways they can get involved in developing financial infrastructure for the world's poor.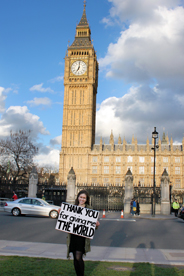 As the Microfinance Without Borders Communications Specialist, I focused on external outreach. This included writing blog posts, editing contact databases, and attending networking events on behaf of Microfinance Without Borders to further advertise our programs.
One of my most memorable experiences as an intern abroad was attending a conference at the European Bank for Reconstruction and Development Headquarters in London. The conference, called "Mobile Money in the EBRD Region", featured a series of presentations and panel discussions on mobile money and microfinance in Eastern Europe. Panelists discussed how the world can use mobile phones to reach those who do not have access to formal financial institutions, giving them the power to transfer, withdraw and deposit money more quickly and efficiently.
Going to such a conference was a taste of the global perspective I had envisioned when I decided to go abroad. I walked away with the incredible sense that the world is getting smaller and that courageous, innovative individuals are able to spark positive social change.
My internship with Microfinance Without Borders allowed me to experience what a profession in global communications is like, while also introducing me to an entirely new field. Microfinance and social enterprise have quickly become subjects close to my heart, and I hope to do more with them later on in my professional career.
Interning abroad is a remarkable experience. I not only learned about the British corporate culture, but I also had the opportunity to compare the role of a communications professional in the UK versus the US. Now THAT is something to put on a resume.