Sciences Po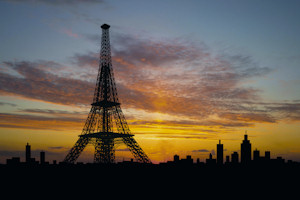 The Institut d'Etudes Politiques de Paris (Sciences Po), founded in 1872, is an internationally recognized center of academic excellence and is a member of the Association of Professional Schools of International Affairs (APSIA). Sciences Po's reputation as a leading institution in the field attracts elite students from all over the world; over 30% of the full-time student body is made up of international students. With an urban campus composed of 17th and 18th century buildings in the heart of Paris, students are exposed to the cultural flavor of the Saint Germain district, and world-class historical and cultural attractions such as the Louvre and Notre Dame are all within walking distance. Participate in the SIS Undergraduate Semester Abroad Program at Sciences Po and have a life-changing experience at an excellent French university.
Coursework
AU students who participate in this one-semester or academic year program enroll in regular courses alongside full-time Sciences Po undergraduate students. Students must take a full courseload at Sciences Po and earn 15 credits per semester toward their undergraduate program at AU. Programs of study at Sciences Po include:
International Relations
Economics
History
Law
Political Science
Sociology
Journalism - spring semester only, see below



Language courses can also be taken for academic credit.

AU students who wish to take courses in Sciences Po's prestigious School of Journalism can apply to participate in the

Undergraduate Journalism Program

. This spring-semester program offers a unique English-language curriculum with classes taught by professional French journalists and Sciences Po faculty, as well as a mandatory French language course. The program is highly competitive, with approximately 15 students selected per year from around the world.
Students who wish to take regionally-focused, English-language coursework can apply to study at one of the following Sciences Po regional campuses:

Le Havre: Europe-Asia Campus
Menton: Middle East and Mediterranean Campus
Reims: Europe-North America Campus

The following campuses require proficiency in French or a regional language:

Dijon: Central and Eastern Europe Campus
Poitiers: Europe-Latin America Campus
Nancy: European Franco-German Campus
AU students who participate in the Program for a full academic year can also choose to apply for Sciences Po's prestigious Undergraduate Exchange Program Certificate. Students must follow Sciences Po's structured French or English/French Programs in order to earn the Certificate.
N.B.: As all Sciences Po undergraduates are required to spend the third and final year of their Bachelor's degree program studying abroad, there are no third-year courses offered at Sciences Po and undergraduate exchange students enroll in second-year courses.
Language Requirement
Students who wish to take courses instructed in French must demonstrate proficiency in the language at an intermediate level at the time of application and are encouraged to reach advanced proficiency before enrolling at Sciences Po. Students may prove their level of French proficiency through submission of their CAPE language exam results as part of the application. Those who are admitted to the Program must also utilize a language self-assessment provided by Sciences Po.
Academic Calendar
Fall: September – December
Spring: January - May
Students may spend one semester or an academic year at Sciences Po (Fall - Spring).


Registration
Students are registered through the SIS Office of International Programs for fifteen (15) AU-Sciences Po exchange credits (SISA-452). Those who wish to take fewer (12-14) or more than (up to 17) 15 credits need to arrange this with their academic advisor before they can be registered for the AU exchange credits. These exchange credits cover the Program credits only; research and/or internship credits are registered under normal AU guidelines.  
Students are required to meet with their AU academic advisor and obtain formal pre-approval before enrolling at Sciences Po. This ensures that all credits earned on the Program can be applied toward the student's AU degree.
Students register for Sciences Po courses (30 ECTS per semester which typically equate to 5 courses and 15 AU credits) via an online portal prior to the start of the semester. Exchange students who wish to take more than 15 AU credits may do so by enrolling in a sixth course either in French language or French civilization totaling 35 ECTS maximum for the semester. Students who wish to apply for the Undergraduate Exchange Certificate must also do so during this period.
Credit articulation: Grades and credits earned at Sciences Po are articulated through the SIS Office of International Programs upon receipt of an official transcript from Sciences Po. For conversion purposes, students should expect 2 Sciences Po credits to equal 1 AU credit. The grading scale used at Sciences Po is different from that used at AU and will be explained to students prior to their departure.
Tuition and Fees
Students pay regular tuition, emergency international health insurance, and technology fees to AU. Students do not pay the student activity fee or sports center fee while studying at Sciences Po. Students are billed directly by Sciences Po for the Welcome Program fee, student health insurance (sécurité sociale required of all students under the age of 28), and other student fees if applicable.
Students are responsible for any incidental costs, such as library fines and lab fees, incurred during the program. Students are responsible for all personal expenses including housing and transportation.
Housing
Students are responsible for making their own housing arrangements and for all housing costs. Sciences Po's Accommodation Office can provide students with some resources for locating housing. Similarly, the SIS Office of International Programs may be able to connect students with past program participants who are willing to provide information about housing. However, students should expect to work independently to find housing.
Visa and Immigration
Once admitted to the Program, students are issued a letter of acceptance by Sciences Po. Students use this document to apply for their student visa at the nearest French embassy or consulate. U.S. citizens must initiate the visa application process via an on-line procedure.
Students are responsible for researching the most up-to-date immigration requirements and arranging all immigration documents.
Student Orientation
During the semester prior to the start of the Program, the SIS Office of International Programs conducts a mandatory pre-departure meeting. Topics covered include administrative, logistical, security, and cross-cultural issues. Sciences Po holds a one- to two-week Welcome Program for international students at the beginning of each semester. AU students are strongly encouraged to participate, as it is designed to facilitate adjustment to the Sciences Po academic methodology and life in Paris.
How to Apply
Complete and submit the Program application to the SIS Office of International Programs by the application deadline. The statement of interest should be written in French.
After applications are processed and reviewed, students are selected by SIS for nomination to Sciences Po. Once nominated, students are directed to the Sciences Po website to upload supporting documents and information.

Sciences Po makes the final admissions decision and corresponds directly with Program participants regarding course registration, orientation programs, etc.

The program is competitive, and applying does not guarantee admission.