Alumni Success Story
From Clawed to Counsel: Reunion Leader Reflects on Campus Experience Then and Now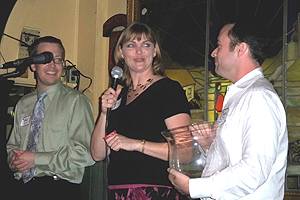 A decade can change many things. During his days at AU as an undergrad, 10-year reunion cochair Justin Perillo, SPA/BA '99, WCL/JD '02, was once Clawed the Eagle.
Today, Perillo wears a much different suit to work each day at AU as assistant general counsel for the university.
But when the class of '99 was reunited last month in Cleveland Park for their 10-year reunion, legalese was nowhere to be found, and Perillo and his classmates picked up right where they'd left off – with camaraderie, laughter, and a wealth of stories.
One of Perillo's favorite stories: "I met my wife, Noelle, when I was dressed up as "Clawed" the eagle during one of the summer orientation sessions that we worked on together," he says. He and Noelle Hull Perillo, SPA/BA '00, were married the weekend of his five-year reunion – so they didn't make it back to campus that year. "Our wedding felt like we were there in spirit, though, because about 20 AU alums attended," he says.
A history and politics buff even in high school, Perillo was sold on coming to AU when he learned of its rich history. "I was intrigued when the AU admissions counselor told me that AU was chartered by an Act of Congress," he remembers. A visit to campus made up his mind. "With AU's political science program, history, and campus setting," Perillo says, "I knew AU was the place for me."
Now, 10 years later, his feelings for AU have only deepened. "As an alum, I find it a real personal honor working at an institution where I spent some of my greatest moments in my life," he says.
"The one thing I have grown to appreciate much more now as a staff member is the dedication and vast amount of time that faculty and staff spend with our students to ensure they get a quality education and experience," says Perillo. "As a student, you sometimes lose sight of this."
From his days as a student, when he enjoyed reading a book or staring at the stars in the winding Zatkin-Butler Garden above the amphitheatre, to his work protecting the university's interests as legal counsel, AU holds a real, positive presence in Perillo's life.
All signs point to that relationship continuing in the future. When asked where he saw himself 10 years from now, he said, "Making plans to attend my 20-year reunion."
"The best part…is getting a chance to see friends that I have not seen in years."