Alumni
Startup Pro Says Networking and Determination Essential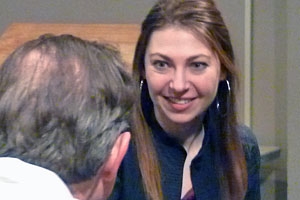 As part of the School of Communication's Startup Forum series for intrapreneurs and entrepreneurs, Kogod and SOC alumna Jen Consalvo came to campus to share her experiences as the COO and co-founder Tech Cocktail. The company creates "Startup Showcase" networking events that help new startups connect and get publicity online. 
"Our job is to shed light on these startups," Consalvo told the audience at the Startup Forum, a series of speaker forums co-sponsored by SOC's new MA program in Media Entrepreneurship, WAMU 88.5, and SOC's J-Lab: The Institute for Interactive Journalism. "The way out of the economic slump is entrepreneurs." 
Consalvo said Washington, D.C., is full of people with knowledge and savvy who leave government jobs and non-profits to create their own businesses.

"I see so many different personalities in successful entrepreneurs. But there is always complete determination and persistence. They are open to feedback, but still have vision, inner drive, and they won't give up until they get there," says Consalvo. 
Consalvo listed many ways that ambitious start-ups could gain the momentum and skills they need to become successful. She addressed the popular establishment of accelerators which provide start-ups with assistance with the basics of business, networking, and the resources to propel a company. 
Consalvo also talked about events that encourage start-ups to participate for exposure, such as Digital Capital Week in D.C. where anyone can start an event, and the South by Southwest gathering in Austin, Texas that fosters networking and interaction between the world of start-ups and existing companies. 
Consalvo underscored the importance of networking. 
"Constantly push beyond your comfort zone," she encourages. "If you are always doing the same things, you won't meet other people who will push you to another level. Take a chance and be friendly and vulnerable." 
She noted that her own ability to take a few risks and push herself to embark on her own business entrepreneurship grew from her experience as an undergraduate and graduate student here at AU. 
"At AU you have to have independence to survive," says Consalvo. "You have to find things for yourself, and it's that element of the school and DC that drive students. It fed my spirit to start something and take a risk."