Environment
Leading Environmental Change: AU Continues to Be a Power Player, Five Years after Achieving Carbon Neutrality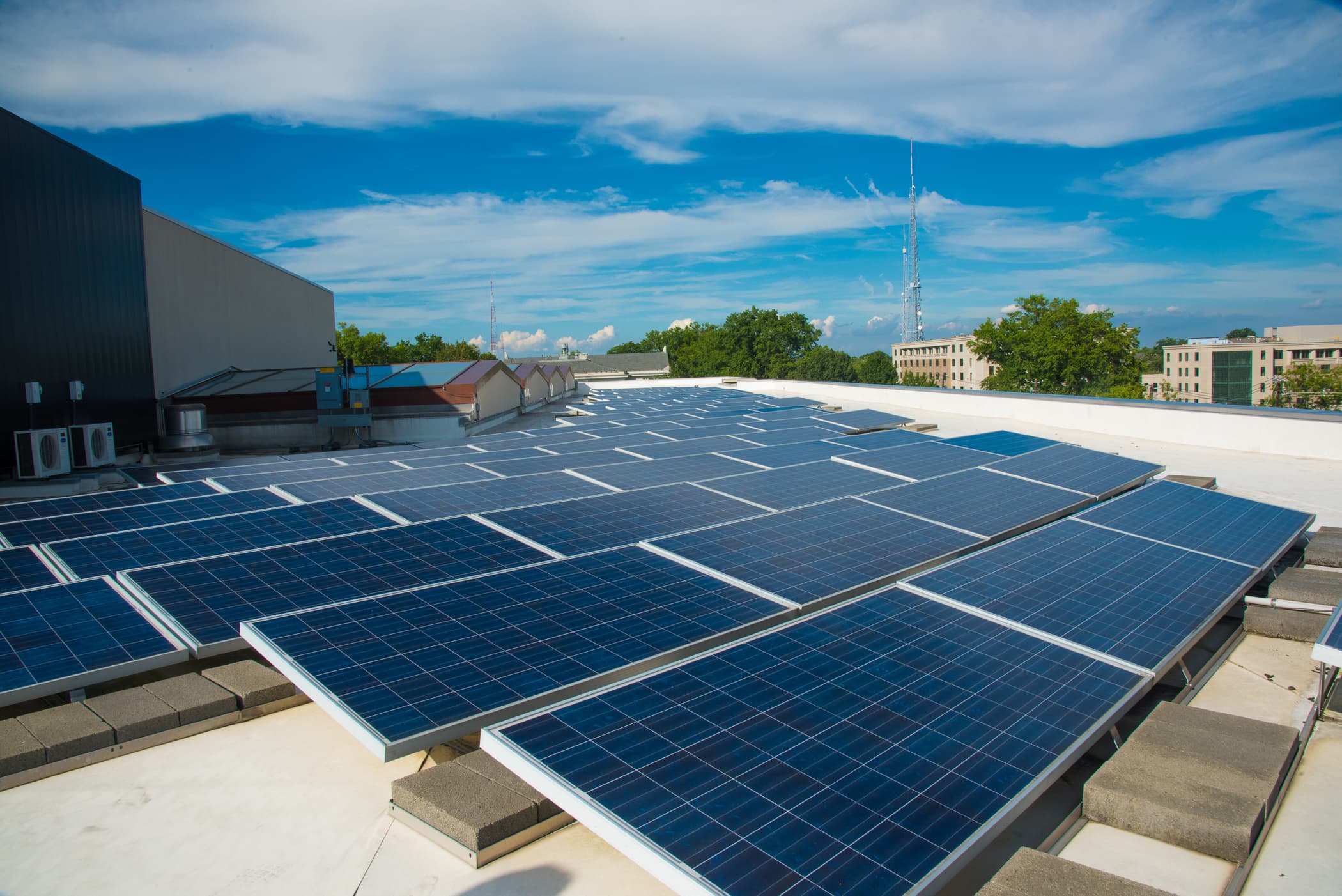 Solar panels on the roof of AU's Bender Library. (Jeffrey Watts/AU).
By Jonathan Heeter
Five years after AU became the first university in the country to achieve carbon neutrality, the changemaking work to reduce the university's environmental footprint continues. 
AU reached the milestone in 2018—two years ahead of schedule. Ours is also the first urban campus and research institution in the US to meet the guidelines established by Second Nature, the Boston nonprofit leading sustainability efforts in higher education.  
"We're proud to have reached our goal on carbon neutrality when we did," said Megan Litke, director of sustainability programs in the Office of Sustainability. "This week is a great time for all of us to celebrate what we achieved as a community, but the work doesn't end here. We will keep pushing forward." 
The university marked the anniversary on April 25 with a lunch and learn discussion on climate change. The weeklong celebration included sustainability tours and an interdisciplinary panel discussion on environmental justice, hosted by the Center for Environment, Community, and Equity on April 27. 
AU achieved carbon neutrality through a yearslong commitment to emissions reduction through efficiency and behavioral changes, carbon offsets, and on- and off-site renewable energy. The campus has 10 LEED-certified buildings, seven solar panel installations, 100 percent renewable electricity, and an entire fleet of biodiesel shuttle buses. The university also announced it had divested from fossil fuels on April 20, 2020—the 50th anniversary of Earth Day.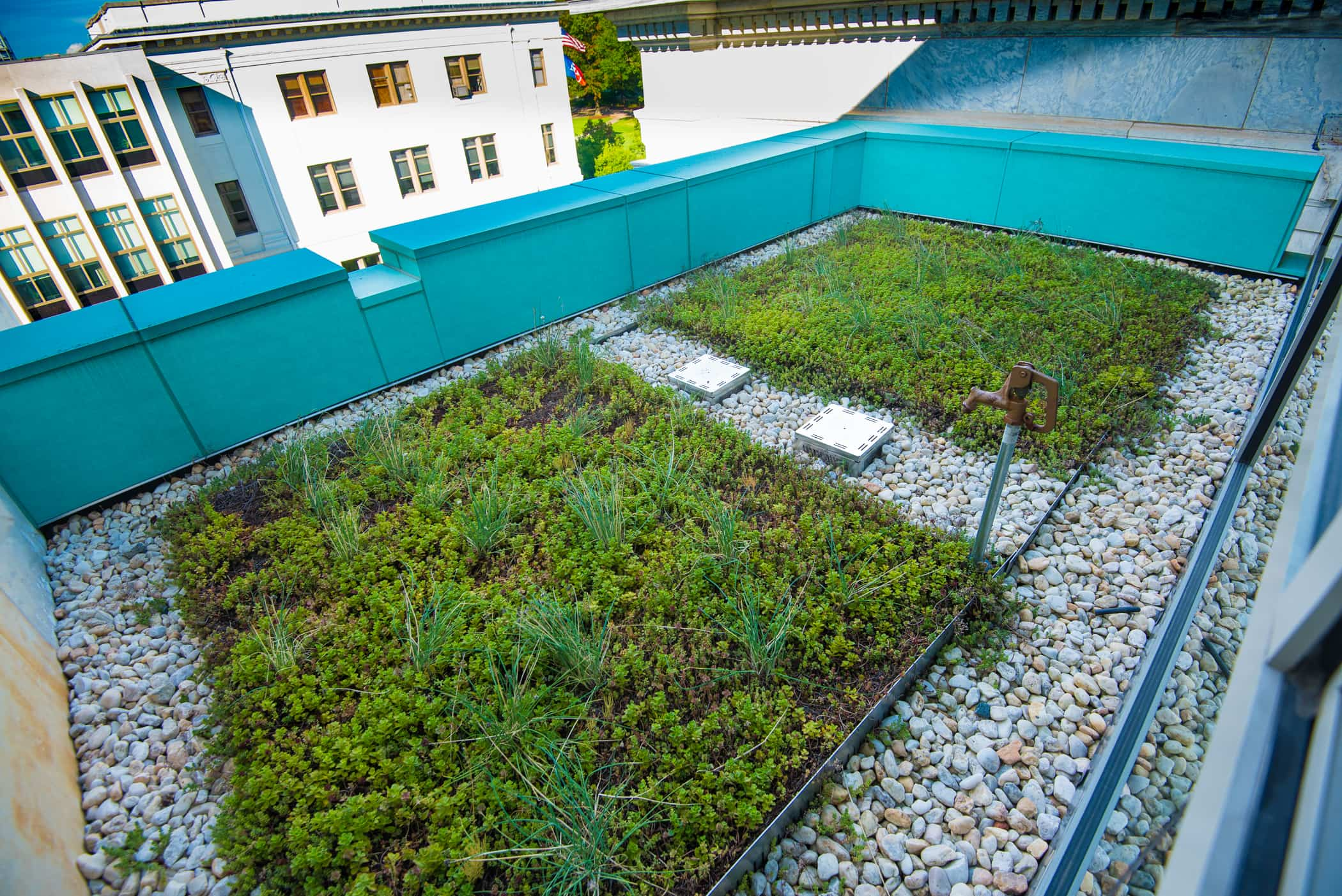 AU's green roof on SOC's McKinley building. (Jeffrey Watts/AU).
According to Litke, the impact of AU's sustainability work over the past five years equates to removing 61,000 cars from the road; taking an annual average of around 10,000 homes off the electrical grid; planting more than 4.5 million trees; and switching 10 million incandescent bulbs to LED. 
The university's continuing efforts are informed by the five-year 2021 Sustainability Plan. The framework, which builds on AU's 2010 Climate Plan and the 2014 Sustainability Plan, takes a holistic approach to sustainability and focuses on climate literacy, food systems, green construction, wellness, and environmental justice. AU is also committed to achieving zero-waste by 2030 through the elimination of single-use plastics, increased composting and recycling, and a decrease in overall waste. 
Over the past year, AU's sustainability work has led to the collection of 20,000 pounds of compost during the fall semester, the launch of reusable containers in TDR, the redistribution of campus furniture through a surplus program, and the donation of 2.5 tons of clothing to Mobile Hope through Project Move Out in May 2022.
On Campus
American University Became Carbon Neutral, But It Didn't Sto
American University is a member of America Is All In, a coalition of leaders supporting of climate action in the US.