On Campus
Commencement Now and Then: AU's Tradition of Changemaking Speakers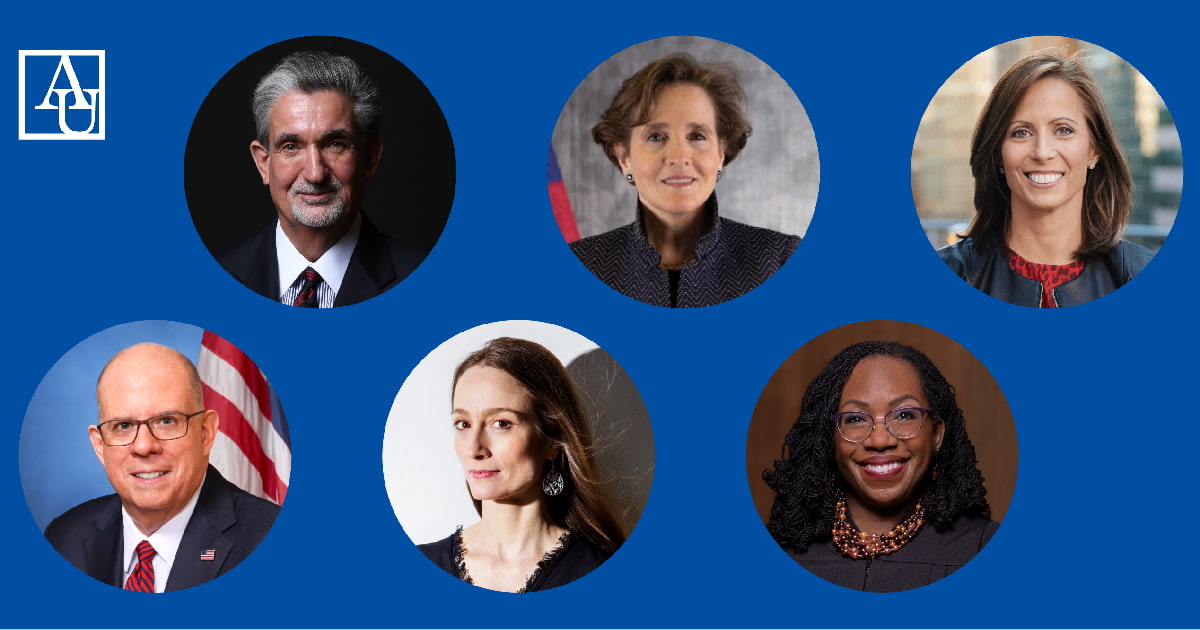 AU's 2023 spring commencement speakers, clockwise from top left, Ted Leonsis, Alice Albright, Adena T. Friedman, Ketanji Brown Jackson, Julie Kent, and Larry Hogan.
By Jonathan Heeter
The lineup of speakers for AU's 145th commencement next month spans the Supreme Court to the basketball court.  
They are: 
Ted Leonsis, founder, chair, principal partner, and CEO, Monumental Sports and Entertainment and owner of the NBA's Washington Wizards, NHL's Washington Capitals, WNBA's Washington Mystics, and Capitol One Arena, will address graduates of the School of Communication and School of Education at 10:30 a.m. on May 12.  
Alice Albright, CEO of foreign aid organization Millennium Challenge Corporation, will speak during the School of International Service ceremony at 3 p.m. on May 12. 
Adena Friedman, CEO of Nasdaq, will deliver remarks to graduates of the Kogod School of Business and Professional Studies at 9 a.m. on May 13. 
Larry Hogan, the 62nd governor of the State of Maryland, will address School of Public Affairs graduates at 1:30 p.m. on May 13. 
Julie Kent, artistic director of the Washington Ballet, will speak at the College of Arts and Sciences ceremony at 6 p.m. on May 13. 
Ketanji Brown Jackson, the first Black woman to serve on the US Supreme Court, will address graduates of the Washington College of Law at noon on May 20.  
"Only at American University do six changemakers of this caliber come together to celebrate our graduates and charge them to continue their pursuit of the change our world needs," said President Sylvia Burwell. "Our commencement speakers set examples for us all through their lives and experiences, and they will provide an inspiring conclusion for our Class of '23 Eagles." 
This year's commencement speakers continue the tradition of changemaking thought leaders who've offered wisdom, inspiration, and advice to graduating Eagles.  
Rev. James Roscoe Day, the chancellor of Syracuse University, spoke at AU's first ceremony on May 26, 1915, before diplomas were even awarded. Held at the Grove Amphitheatre nearly a year to the day after President Woodrow Wilson gave the dedication at the university's opening, Day's speech touched on the bipartisanship that AU continues to strive toward today. 
"I testify to you that there is no more magnetic man on the continent of America than [then former president] Theodore Roosevelt," Day said. "And although I am as far away from his position on some questions as ever, I see no reason why men who differ may not like each other at the likable points." 
Hogan, the twice-elected Republican governor of a state with a Democratic majority, embraced that approach, reaching across the aisle to find solutions, especially during the COVID-19 pandemic. According to the Eagle archives, Hogan will be the second governor to receive an honorary degree: New Mexico governor Toney Anaya, WCL/JD '67, received his in 1983. 
Jackson also follows in the footsteps of her colleagues in the judiciary. She is the eighth Supreme Court justice to receive an honorary degree from AU or speak at commencement. The list includes chief justices Earl Warren and Warren Burger and the first two women to serve on the court: Sandra Day O'Connor and Ruth Bader Ginsburg, who spoke at AU for the first time in 1981, 12 years before taking the oath of office. 
World leaders from home and abroad have also received honorary degrees or given commencement addresses. They include US commanders in chief Franklin Delano Roosevelt, Dwight D. Eisenhower, John F. Kennedy, and Bill Clinton and the presidents of South Korea, Honduras, Nicaragua, Israel, Iran, Chile, and Zimbabwe. Civil Rights leaders, including Andrew Young, Representative John Lewis (D-GA), and Bryan Stevenson shared stories of perseverance and resolve. 
"The great challenge we face is that we need to change the world," Stevenson, founder of the Equal Justice Initiative, told WCL graduates in 2017. "We need to create more justice, and each and every one of you has the power to do that." 
The business world has also played a role in AU's commencement, with Friedman and Leonsis joining an impressive roster of leaders. In 1950, Charles Kettering, the founder of Delco and head of research at General Motors, reflected on his invention of the electric automobile ignition system. His team at GM also pioneered leaded gasoline and invented Freon to replace dangerous chemicals used in refrigeration. Graduates have also heard from the CEOs of Pepsi, Discovery Communications, the Washington Post, the Associated Press, TIAA, Sony, and C-SPAN. 
And Kent isn't alone among performing artists at commencement. Howard Mitchell, the conductor of the National Symphony Orchestra, received an honorary doctor of music degree at the 36th commencement. Academy Award winners Barry Levinson, SOC/BA '67, and alumna Goldie Hawn spoke in 1999 and 2002, respectively, as did patrons of the arts Deborah Rutter, president of the Kennedy Center, and Catherine Filene Shouse, founder of the Wolf Trap Foundation for the Performing Arts.