Online Self-Help Library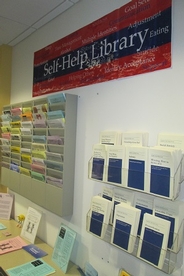 HOW TO USE THIS PAGE:
Always read critically. The Counseling Center does not monitor or endorse the web sites listed below. If you have questions or concerns about your own unique situation, make an appointment to talk with a mental health provider by calling the Counseling Center at (202) 885-3500.
You are also invited to come and browse the Student Self-Help Library located in the reception area of the Counseling Center (MGC 214), which is pictured on the left.