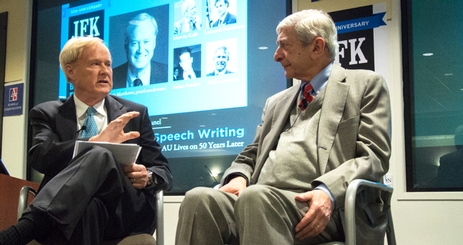 The School of Public Affairs offers the 8th ranked MPA in the nation.
-US News & World Report, 2011
Earn a PhD, MPA, MPP, or master's degree in government, political communications, or justice from SPA, a top-ranked school of its kind in the nation's capital. These courses of study will provide you the knowledge and skills necessary to tackle today's complex challenges. These degrees prepare you for leadership.
At the School of Public Affairs, you will explore your field with top experts. The School's faculty are leaders in political science, government, justice, and public administration and policy. These scholars' work shapes our world. With SPA professors, your experience in the classroom will be stimulating, challenging, and worthwhile.
American University's graduate work combines rigorous academics with unique opportunities for exciting practical application. Upon completing your degree, your mastery of your chosen field will be unparalleled.
Considering a Graduate Degree?

We'll create a personalized portal where you can get the latest information on your program(s) of interest, campus events, information sessions, and achievements.
Faculty Profile

David Rosenbloom is a Distinguished Professor at SPA. Dr. Rosenbloom was the editor in chief of Public Administration Review (1991-1996) and currently serves on the editorial boards of about a dozen leading public administration journals.