Engineering Joint Degree Program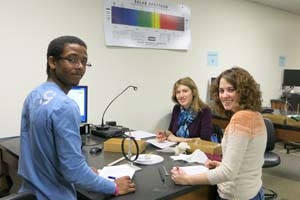 American University offers a joint degree program in partnership with Columbia University's Fu Foundation School of Engineering and Applied Science. Students spend three or four years as full-time students at AU, followed by two years as full-time students at Columbia University. Students graduate with a BA or BS from AU in the natural sciences or liberal arts and a BS in a specific engineering major from Columbia University. Columbia's Combined Plan program is the first dual-degree engineering program in the United States. AU joins more than 100 colleges and universities that are already Columbia Combined Plan affiliates. Note that this program is open to any student with any major at AU providing the prerequisite courses needed to apply to this program have been taken.
Why enroll in the dual-degree program?
Columbia's engineering school reports that the dual-degree students have had better job opportunities, with higher starting salaries, than students who go directly through traditional engineering programs. Students gain experience with critical thinking, problem solving, and reasoning while pursing the BA. These skills are highly sought after from employers and when paired with the technical course work in engineering, graduates have increased opportunities for employment, research, and graduate studies.
Columbia University offers engineering programs in the following areas:
Earth & Environmental Engineering
Engineering and Management Systems
Materials Science and Engineering
Admission to the program with Columbia University is guaranteed if a student successfully completes all of the following requirements:
Full-time enrollment at an affiliate institution for at least the past three years.
Minimum overall GPA of 3.30, inclusive of all coursework taken for credit.
Minimum pre-engineering GPA of 3.30, inclusive of all science and mathematics prerequisite coursework. Additionally, a minimum grade of B (3.0) must be obtained on the first attempt in all science and mathematics prerequisite coursework.
Successful completion of both the foundational and major-specific prerequisite coursework by the end of the spring semester of application.
Successful completion of the degree and major requirements of the affiliate institution by the end of the spring semester of application.
Favorable recommendation letters: one each from the Combined Plan liaison, a science instructor and a math instructor.
Proficiency in English as directed by Columbia on their website.
Applicants who do not meet the above criteria may apply to the program with Columbia University, but admission is not guaranteed and students will be considered in their competitive review process. The requirements of guaranteed admission are used as guidelines for this review process.
The engineering program at Columbia University has basic requirements for foundation courses required of all majors—please see the Columbia Combined Plan Experience for more information, including area-specific requirements that must be met in addition to the foundation-level course requirements.
Foundation courses include:
The full sequence of Calculus I, II, and III (MATH-221, MATH-222, and MATH-313)
PHYS-110 Principles of Physics I
PHYS-210 Principles of Physics II
CHEM-110 General Chemistry I
CSC-280 Introduction to Computer Science I
Twenty-seven (27) non-technical credit hours. Please speak with your liaison in regards to which courses fulfill this requirement, as coursework taken for the bachelor's degree awarded by the home institution often fulfills this requirement. Among those courses students must include:

ECON-100 Macroeconomics
WRTG-100 College Writing

Additional requirements may apply depending on the student's intended area of study at Columbia University.