Contact:
Dr. Dan Kerr
Director, Public History Program
A Hands-On Approach to History
The Master of Arts in Public History opens the door to careers in museums, cultural tourism, community history, historic preservation, cultural resource management, libraries, archives, new media, and many other professional fields. In this program, you will explore how audiences understand the past while developing research and interpretive skills to enrich the public's understanding of history. You will learn the best practices in public history and develop expertise in your chosen historical field, learning how professional historians conduct scholarly analysis. You will graduate with a record of original research and a command of historiographical literature.
AU's unique combination of research and scholarship with hands-on, real-world experience will help you develop a deeper historical understanding and become a better historian. In addition to developing a firm base of historical knowledge and practice, you will explore the many facets of public history, supplementing your coursework and applying your skills outside of the classroom with projects and partnerships with AU faculty, local communities, national organizations, and area institutions.
Our program prides itself on its commitment to mentorship, collegiality, and public service. As part of AU's public history community, you will explore the capital city and beyond, engaging in class trips to local cultural institutions. You will build teamwork and leadership skills by engaging in service projects. You will further your academic and professional career and gain networking experience by attending national public history conferences and working with high-profile historical institutions. With the close support and guidance of our faculty, you will acquire the tools to succeed in this dynamic field.
Design Your MA to Develop Your Expertise
The MA in Public History will prepare you for an exciting career with historical knowledge, research skills, and hands-on practical experience. You will have the freedom to develop your own unique set of skills and expertise, pursuing internships and classwork in the fields of your choice.
Our coursework will expand your historical knowledge and provide a solid foundation in historiography. The core courses include a seminar on public history, a practicum, and an internship. You will develop your research skills with a course in oral history or history and new media and conduct original research combining academic and public history during your research seminar.
Full-time students complete the 36-credit program in 18 months. See MA Admissions & Degree Requirements.

Study History Where It Happens
In Washington, DC, history is being made every day. The unparalleled professional and intellectual opportunities offered by the nation's capital make AU the ideal place to study public history. You will have access to renowned museums and archives — such as the Smithsonian, the National Archives, and the Library of Congress — where you can further your research, explore your career options, and make your unique impact on the field.
With our public history practicum, you will engage in hands-on learning and assist in the development of interpretive programming and exhibits for high-profile institutions such as the American Red Cross, the National Park Service, President Lincoln's Cottage, the Smithsonian Institution, the National Law Enforcement Museum, and the Historical Society of Washington, DC. As part of the Washington, DC Consortium, students at American University are able to take courses at colleges and universities throughout the DC metropolitan area, providing the opportunity to work with a variety of faculty in diverse programs and fields of study.
You will get a head start on your career by interning at one of the city's many museums, archives, or historic sites. Our local partnerships will help you find an internship with the area's most important institutions and employers. Whether you are interested in working at a government institution or a non-profit, DC has something for you. We also offer yearly fellowships with the White House Historical Society, History Associates, American University Special Collections, the DC Preservation League, and the National Coalition for History.
Learn from Our History-Making Faculty
At AU, you will work closely with experienced scholars whose work blurs the lines between the academic and the public. You will learn from respected professors of the public history program, faculty across the history department, and affiliate faculty members who are practitioners in the field. Our faculty's variety of research interests and areas of expertise will offer you a wide field of research options.
Explore the Possibilities
Our graduates work for museums, archives, historical societies, and related institutions. With our strong curriculum, prime location, and connections with professional organizations across the United States, our students are well prepared to begin highly rewarding careers. In the DC area, our alumni work at the Smithsonian Institution, the National Archives and Records Administration, National Public Radio, the National Trust for Historic Preservation, and President Lincoln's College. Our graduates find positions nationwide in prestigious institutions such as the Philadelphia Museum of Art.

Please send me information about Master of Arts in Public History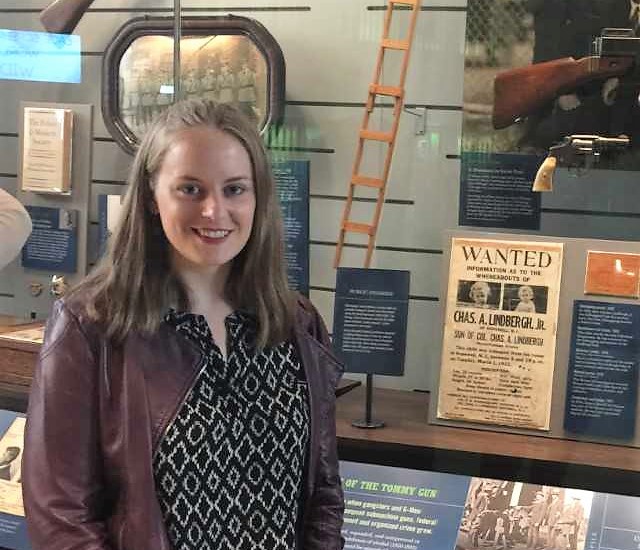 Chelsea Hansen, CAS/MA '16
Public History
This position is such a privilege, and I love what I do.
While finishing her degree at AU in summer 2016, Hansen joined the National Law Enforcement Museum as an Education Intern. Her internship was extended through the fall, and the museum eventually hired her as Associate Curator. In this position, Hansen has contributed to every exhibition currently on display at the newly opened museum, where she researches, writes, and develops content to address a topic she calls "challenging but fascinating."