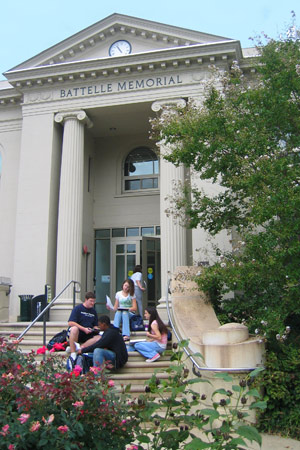 Leaders are people who act on the opportunities they see to make a difference in the world around them. Have you ever wanted to support an endeavor or program, change it in some way, help other people, expand your understanding of an issue, or resolve conflict? If so, then you are already thinking like a leader. Whether that means seeing a project steered in a certain direction, working with a team to reach a goal, or supporting an initiative as part of a commitment to seeing a larger goal realized - a leader is a person who works to help others actualize an opportunity. The CAS Leadership and Ethical Development Program (CAS LEAD) is based on the premise that everyone can be trained to be an effective and ethical leader and the recognition that effective leaders are critically important across the diverse fields and career paths charted by CAS students. The CAS LEAD Program is designed to help you learn how to be an effective and ethical leader who can do all this and more.
How the study of leadership and ethical development helps you excel
In the CAS LEAD Program, you will learn about leading yourself and others as you practice leadership and ethical decision making. You will spend four years with a cohort of like-minded students engaged in rigorous study and practice designed to develop your ability to solve problems and lead projects responsibly. The program is designed to help enhance your ability to compete successfully for whatever comes next, be it career placements or graduate school admission. You will graduate with a CAS LEAD Certificate, noted on your transcript, a permanent message to the world that you have undertaken and successfully completed a rigorous and focused program and that you are prepared to tackle the world's most pressing problems with insight and success.
Introducing the CAS Leadership & Ethical Development Program
The College of Arts and Sciences Leadership and Ethical Development Program (CAS LEAD) is a selective, sequenced four-year program designed to teach and empower our students to become effective leaders and problem solvers. The program, which was specifically designed for CAS students, is based on the study of ethics and leadership theory. You will gain practical experience in leadership in the community and in your chosen academic disciplines and career paths. Working in a cohort, you will practice the art of persuasion, learn how to deal with opposition in an effective, ethical, and emotionally-intelligent way, and work with others to develop productive solutions. Upon completion of the program, you will have earned a CAS LEAD Certificate, which will be noted on their transcript, as permanent evidence of the rigorous, focused enrichment work completed as part of your undergraduate degree.
CAS LEAD provides an opportunity to explore and learn from leadership experiences and styles associated with a wide range of academic fields and career paths. The program can be added to any existing CAS major and is structured to complement the AU Living/Learning Programs, AU Scholars, the Honors Program, study abroad, and internship opportunities.
Program Goals
The CAS LEAD Certificate Program will educate students to become leaders who:
know themselves and understand their own agency and the effects they have on others
are emotionally intelligent
understand and practice effective leadership
are critical, ethical, and creative thinkers

recognize, evaluate, and work to solve problems wherever they find them
are prepared to be transformative and effective across disciplines and the globe

recognize opportunities for leading and are able to solve problems, whether serving as project leaders or adjuncts to the project leader
do not shrink from struggle and difficulty, but who by their knowledge, commitment, and ethical development are actively engaged, meeting the needs of the communities in which they find themselves

Bulletins/Dates
2018 Applications Due No Later Than: July 17, 2018
Application Decisions Sent No Later Than: July 31, 2018
Program Seminars Fall-Spring
Wednesdays: 8:20-9:10 First Year
5:30-7:10, Second Year