Key Executive Leadership Speaker Series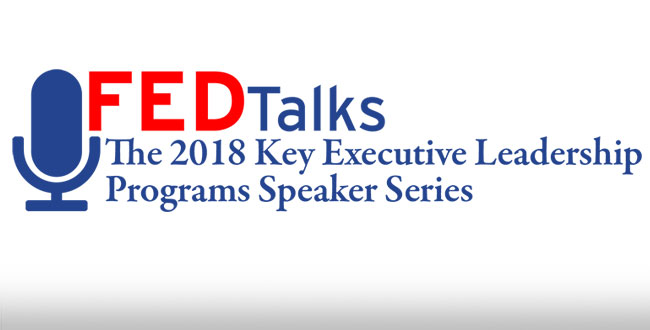 To engage our current students, alumni, and colleagues, we are proud to present the 2018 Key Executive Leadership Programs Speaker Series "FED Talks." This series offers four sessions in the calendar year, and is a complimentary service to the federal community.
2018 Scheduled Speakers: FED Talks
Wednesday, August 8, 2018 
5:00 - 6:30 p.m.
Carnegie Endowment for International Peace
1779 Massachusetts Avenue, NW
Washington, DC 20039
Theme: Diversity and Inclusion: LGBTQIA+
Speaker: Confirming
Check back for more details! 
Description:
Coming soon!
Upcoming Dates
Wednesday, October 10, 2018, 5:00-6:30 p.m. | Creating an Inclusive Culture
Wednesday, December 5, 2018, 5:00-6:30 p.m. | 2018 Diversity & Inclusion: a year in review
February's FEDTalk 
Look for our recording in tour new podcast series!
Speaker: Gary A. Smith, Co-Founder and Senior Partner, IVY Planning Group (Ivy)
Description: Depending on how long you've been involved with diversity and inclusion (D&I) really determines not only how much you've seen, but how different the goals, the journey, the strategies and yes even the outcomes have been.
Let's be clear, this talk matters as it does several critical things all at once:
1. It clarifies why the topic matters more than ever
2. It highlights why the work itself is harder now than ever
3. It provides proven ways to win around diversity and inclusion execution
Ultimately, everyone who is interested in achieving D&I outcomes will have to redefine or change how they communicate what it means to "win." Determining if that translation is a will or a skill issue is a critical first step. It's a step that requires honest introspection.  
We'll discuss what it is, why it matters, and what makes D&I success so difficult all while allowing for that introspection to occur. Just as appealing though are the lessons learned that provide hope, excitement, enthusiasm and a demonstration that success is still possible. In fact, perhaps greater and more impactful D&I success is possible now. This FED Talk will strike the right balance between D&I in the public and private sectors while carefully identifying what translates across sectors and what doesn't. It will provide an interactive forum for the discussion for those who want to know what works, what doesn't, and how to achieve success in 2018.
 
 5 Key Reasons to Attend
Provides a stimulating environment for Key current students and alumni, which is conducive to continued intellectual and professional growth.
Cultivates professional connections between current students, alumni, faculty, and staff.
Supplements your Key experience with subject matter relevant to improved leadership in the public sector.
Current students and alumni are eligible to receive a certificate of completion for attending at least six seminars within a two year period.
Allows the Key Executive Leadership Program to reciprocate the support and serve the public good.